condition + stretch + handstand
DAY 1 - 17h30 / 18h15
DAY 3 - 17h30 / 18h15
Body conditioning is designed for an easy full body warm up. In this session we will focus on upper body strength exercises on the floor, to then build strength through core arm and leg conditioning, while developing cardiovascular endurance. We will use a mixture of apparatus, training with ground conditioning to work the entire body and muscles for maximum strength and control.
Stretching is designed to increase your flexibility, improve your range of motion, and help prevent injury while training. The class will consist of active stretching exercises for every muscle, focusing on legs hips back and shoulders. As a teacher I will correct the form, the alignment and gently push deeper.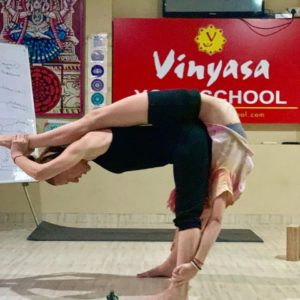 Laetitia Bodin + Petra Lange
Laetitia Bodin has traveled the world for ten years with Cirque du Soleil as an aerialist and acrobat. Petra Lange has been an internationally performing aerialist for the past 20 years and regularly practices handstand.
Packages & Schedule
Accommodation
Getting here
FAQ