contact improvisation
DAY 2 - 17:15 / 18:45
DAY 4 - 18:00 / 19:00
Magalie will guide you through a series of improvisational tasks working in pairs and in groups, finding techniques for flying, partnering and floor work with momentum and sensitivity and playing with the physics between bodies and gravity.
We'll work with skills such as rolling, releasing, giving and supporting weight and expanding our range of spatial orientation, lifting, catching and falling to give a greater understanding of your gravity; sharing weight in motion and finding a flow through the physical contact.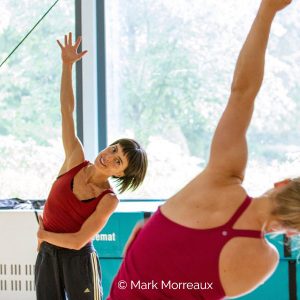 Magalie Lanriot
Magalie is a dancer, performer and teacher with training in contemporary and aerial dance. Currently residing in Lisbon, it was there that she discovered the world of the circus in Armazém 13 Circus Project, where she receives training, particularly focused on aerial dance.
I performed for many choreographers such as Aletta Collins, James Cousins, James Wilton to name a few and companies like the Glyndebourne Festival, Secret Cinema, the Cunningham Trust…etc.

Through my career as a dancer, I performed in movies and TV series but also became assistant choreographer and assistant director of operas as I was, in the meantime, teaching ballet and contemporary classes at LCDS where I studied every now and then.

As I fell in love with yoga, I went on to train as a yoga teacher in Bali where I decided it was time for me to go back to France, after living 9 years in London.

I am now a full time yoga teacher in Bordeaux and internationally as I teach yoga teacher trainings around the world with Yogakoh.
Packages & Schedule
Accommodation
Getting here
FAQ