vertical and aerial dance harness technique
DAY 1 - 11:45 / 1:15
DAY 2 - 11:45 / 1:15
DAY 3 - 11:45 / 1:15
DAY 4 - 11:45 / 1:15
These daily sessions will be split between Lindsey & Magalie with participants spending 45mins with each tutor/discipline.
On the wall – we'll move through basic orientation and vocabulary and build towards learning jumps and rotations, alongside linking short choreographed sequences.
On the floor – we'll introduce the equipment and basic vocabulary and guide you through various rigging propositions for solo exploration and dancing in duets and trios.
Please wear multiple snug layers around your hips and waist for your comfort. It's useful to have long sleeved shirts for some moves and you may also want to bring slim soled plimsolls or pumps for working on the wall – Feiyues are ideal!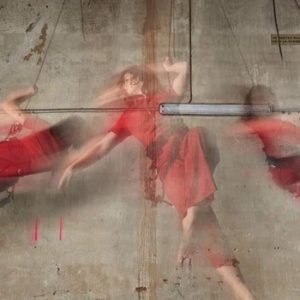 Alice Delva
Alice grew up in her hometown of Verona in Italy driven by a creative force under the sign of dance. From a very young age, she attended the "Vic Ballet Academy" classes and is passionate, through movement and body, towards everything she considers to be "a possible creative manifestation". This led her to also take an interest in photography and video, which were to be complementary means of expression for her. She then worked in Venice with the aerial fabric company Le Rivoltelle and discovered vertical dance with Wanda Moretti and the Il Posto company, pioneers of the discipline in Italy.
She obtained a Masters in photography at the prestigious Goldsmiths University in London with a thesis subject on artistic research between aerial dance and photography.
She deepened her search for movement by continuing her training in contemporary dance in Paris, where she decided to settle down to get as close as possible to aerial dance, which is more professional in France.
A multidisciplinary artist grows up, she evolves as a performer, then as a choreographer, weaving a web between dance and photography. She trained in various companies in Europe such as "Retouramont", "Geneviève Mazin", "Gravity and Levity", "Vertical Dance", "Kate Lawrence", "Magalie Lanriot" She then worked as a dancer performer in different aerial dance companies such as "Les Passagers", "Scarabeus Aeriel theater" and "Retouramont", then founded her first company "Anomalia" in 2017. Based in Paris, she remains in contact with the French and international contemporary and aerial dance scene.

Packages & Schedule
Accommodation
Getting here
FAQ