vertical and aerial dance harness creative lab
DAY 2 - 4:00 / 6:00
DAY 4 - 4:00 / 6:00
In this creative lab we'll start moving on the floor and build on this into aerial exploration and creative play.
Session 1 will be focussed on aerial dance harness – looking at spatial relationships and the available potential for dancing between the floor and air, using guided improvisation and taking time to explore each new territory.
Session 2 will fully utilise your new found vertical dance skills to create solo phrases of material and building towards working as a group.
NB You must have attended the vertical and aerial dance technique class to take this creative lab.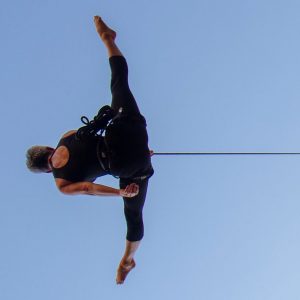 Lindsey Butcher
What drives her work is a passion and curiosity for combining dance and aerial suspension techniques to liberate and intensify the possibilities of each.
Packages & Schedule
Accommodation
Getting here
FAQ