vertical dance + aerial dance (wall + floor) 1
These daily sessions will be split between Lindsey & Magalie with participants spending 45mins with each tutor/discipline. They are intended for aerialists with prior single point sit harness experience!
On the wall – we'll introduce the equipment before moving through basic orientation and vocabulary and build towards learning jumps and rotations, alongside linking short choreographed sequences.
On the floor – we'll introduce the equipment and basic vocabulary and guide you through various rigging propositions for solo exploration and dancing in duets and trios.
For both classes: Please wear multiple snug layers around your hips and waist for your comfort. It's useful to have long sleeved shirts for some moves and you may also want to bring slim soled plimsolls or pumps for working on the wall – Feiyues are ideal!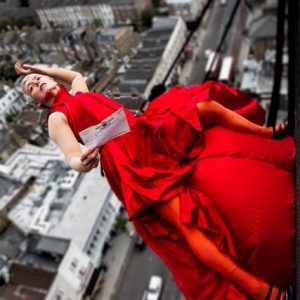 Lindsey Butcher + Magalie Lanriot
Lindsey has worked with numerous dance, theatre and opera companies as a dancer, aerialist, teacher, mentor and choreographer. Magalie is a dancer, performer and teacher with training in contemporary and aerial dance
Packages & Schedule
Accommodation
Getting here
FAQ