contact improvisation
JOUR 2 - 17:15 / 18:45
JOUR 4 - 18:00 / 19:00
Magalie vous guidera à travers une série de tâches d'improvisation travaillant en binôme et en groupe, trouvant des techniques de vol, de partenariat et de travail au sol avec élan et sensibilité et jouant avec la physique entre les corps et la gravité. Nous travaillerons avec des compétences telles que rouler, relâcher, donner et supporter du poids et élargir notre gamme d'orientation spatiale, soulever, attraper et tomber pour donner une meilleure compréhension de votre gravité; répartir le poids en mouvement et trouver un flux à travers le contact physique.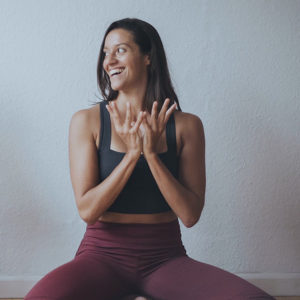 Aurélie Poles
After many years training at the Conservatoire de Toulouse, I went on to study further at the London Contemporary Dance School, in England.

I completed my BA (Hons) degree and decided to stay in London to start my career as a professional contemporary dancer.

I performed for many choreographers such as Aletta Collins, James Cousins, James Wilton to name a few and companies like the Glyndebourne Festival, Secret Cinema, the Cunningham Trust…etc.

Through my career as a dancer, I performed in movies and TV series but also became assistant choreographer and assistant director of operas as I was, in the meantime, teaching ballet and contemporary classes at LCDS where I studied every now and then.

As I fell in love with yoga, I went on to train as a yoga teacher in Bali where I decided it was time for me to go back to France, after living 9 years in London.

I am now a full time yoga teacher in Bordeaux and internationally as I teach yoga teacher trainings around the world with Yogakoh.
Forfaits & Programme
Hébergement
Nous rejoindre
FAQ