YogaKoh 200hr YTT
Book now
Book with www.yogakoh.com/franceytt
29th Aug - 25th Sept 2021
YogaKoh is thrilled to be offering their first European based 200hr YTT. An amazing opportunity for you to experience your teacher training in the lush country side of the Dordogne Valley in the South of France. A creative space built with love by a community of artists that will become your home away from home. 
​This training is designed to challenge you from Day 1. We delve deep into the most important elements of the practice. Philosophy, asana, pranyama, meditation, energetics and specialty topics, but most importantly we focus on the art of teaching, finding your voice and the confidence to lead your own class by the end of the month. We combine the importance of tradition with the beauty of creativity and the support of modern science. Your experienced teachers are hands on and 100% invested in your success. We want you to shine, and will give you the tools to make this dream a reality.
Yoga is a way of life, and with our YTT program we give you the tools to find your own way, and encourage you  to share it with others.
Find out for yourself why this is a training with a difference. We laugh, share, grow and learn together. You might come on your own, but trust us, you will leave as part of a koh-mmunity.
Step out of your comfort zone and join a month long journey of learning and exploration. Trust yourself to come into a handstand. Walk through the hillside in the late afternoon and see for yourself how this training  will make an everlasting impact on you and your practice!
*THIS YTT WILL BE IN BOTH ENGLISH AND FRENCH*
Join us today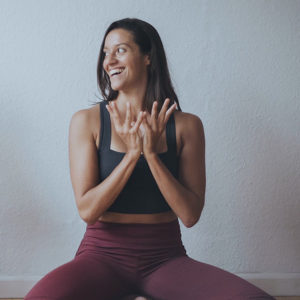 Aurelie Poles
Aurelie first discovered yoga in London, where she lived for 9 years, as a way to recover from an injury during her time as a professional dancer. She quickly realized that not only it was the perfect physical practice for her body, it also brought her so much more: calm, ease and simplicity.

After a few years of practice, she went on to train in Bali where she received her 200RYT certification. This island dear to her heart is where she fell in love with teaching.

Ever since she moved back to France, she has worked as a teacher in various studios and started leading workshops and retreats while still dancing.

Aurelie then began teaching on trainings and is now thrilled to be running YogaKoh's first European based YTT! It is always with such delight and excitement that she goes to share her love for this practice with others looking to deepen their knowledge and search of a new path.
Schedule
Accommodation
Getting here
FAQ
The Program will run 6 days a week, with 1 off day a week:
​

Sunday August 29th is arrival / check in day.

We will begin with a orientation / opening ceremony that afternoon 

Full daily schedule will begin Monday August 30th

Saturday September 25th is check out / departure day

We will have our final closing / graduation the evening of September 24th
​DAILY SCHEDULE:
​6:30 – 8:30am –> Morning Practice
8:30 – 9:30am -> Breakfast Break
9:30 – 12:30pm -> Lectures on various topics from curriculum
12:30 – 2:00pm -> Lunch Break
2:00 – 5:00pm -> Lectures on various topics from curriculum
6:30pm -> Dinner
** there will be certain days that evening lectures are scheduled
​Breaks and evenings are your time to rest, study, explore the beautiful property, enjoy sunsets, have bonfire chats, and soak in the amazing energy of the land. 
​
We offer community based living here at the centre de creation, all our rooms are quiet and clean and offer a home from home experience. The accommodation is inclusive in the retreat price and our best rooms are offered to those who book early. All our rooms have shared bathrooms. We also serve delicious vegetarian and vegan food and homemade cakes.
Double room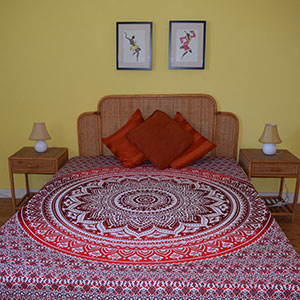 Shared room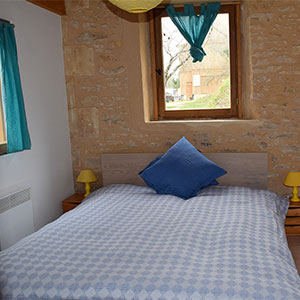 Single room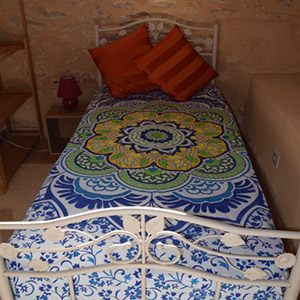 The centre de création is located in Le Buisson-de-Cadouin, we are a 45-minute drive from Bergerac airport and around 2 ½ hour train from Bordeaux airport
*Due to covid we are limited to give correct dates and flight information. We will update as soon as we can. Thank you for your understanding.
Our Address :
Centre de Création
Les Joncailles
24480 Alles-sur-Dordogne
France
To see all frequently asked questions :
cancellation and refund policy
We understand that there are times where you may be unable to attend once payment has been made and we will always try to help where we can.
You may cancel your booking at any time provided that the cancellation is made by the person submitting the booking form and is communicated to us in writing.
Cancellation of your booking should be confirmed and notified by email.
CDC reserves the right to cancel any class and offer an alternative date or a refund.
All payments include a non-refundable deposit of 30%.
You may cancel your booking at any time provided that the cancellation is made by the person submitting the booking form and is communicated to us in writing.
Cancellation will take effect from the day that the written request is received by us.
Cancellation 12 weeks plus before the start of your Atelier: 100% refund, minus the deposit.
Cancellation 6 to 12 weeks before the start of your Atelier: 50% refund, minus the deposit.
Cancellation Up to 6 weeks before the start of your Atelier: 0% refund will be given.
After that, there is no refund unless the booking is cancelled by CDC, in which case we will offer the option of rebooking an alternative date, or a full refund.
Once your Atelier has commenced, no refund or part refund or unused portion of your booking will be repaid in the event of cancellation by you.
We are exempt from fulfilling our contractual obligations for causes that could not be anticipated and/or are beyond our control, including an act of God, act of man, act of government, and other impersonal events or occurrences. That being said, we have integrity and will endeavour to provide you with the services mentioned.
If a booking is cancelled by CDC due to French government imposed COVID-19 travel or social distancing restrictions, an alternative date will be offered within 12 months for the same price. If the participant prefers a full refund will be made.
CDC cannot be held responsible for any participants' costs and expenses, in any circumstance, other than booking fees received. For example, CDC cannot be responsible for travel cancellation charges or bank charges incurred or loss of earnings or any other costs other than the fees received from the participant.
CDC reserves to right to replace the teacher or supervisor at CDC discretion.
CDC reserves the right to cancel classes or any activity for any student for health and safety reasons or disruptive behaviour.
COVID POLICY
During the current COVID pandemic we are extremely aware of the health and wellbeing of all our staff students and retreat participants. With this at the forefront of our minds CDC will follow all French government advice guidelines and regulations and will expect all CDC visitors to do the same. The following CDC guidelines are subject to change to whatever changing advice is received.
A COVID assessment will be made for all activities and this will be available by email or be displayed inside the studio for the benefit of all.
General Controls
Masks should be worn on site by all visitors and staff but can be removed by students or participants during classes bum us be replaced during breaks or at the end of class,
CDC reserves the right to refuse entry to studios to anyone without a mask.
Children under the age of 12 will not be required to wear one.
We will take temperatures at the start of morning practice for those on retreat.
We will provide hand sanitiser stations in each studio and bathrooms and eating areas for the benefit of all participants.
We will clean all studios each morning and sanitise equipment.
If a participant is in residence they will be provided with cleaning materials to clean their own room which we would recommend daily.
CDC will maintain a regular cleaning regime of communal areas, bathrooms and toilets.
Those coming on a yoga retreat should bring their own equipment or we can provide dedicated equipment for individual use only, for the duration of their stay and guarantee this equipment will not have been used for 4 days prior to the retreat.
Wherever possible windows to studios will be kept open during classes to allow fresh air circulation
For residential retreat participants, during meal times Instead of one large table several different areas will be offered to allow social distancing to be respected.
The Covid policy is subject to review.