The centre de création is proud to present redfest – a biannual micro festival of circus, dance and theatre. The redfest is a celebration of new creative work. We endeavor to support artists, give them space to work through redfest residencies, and offer a platform to present their work. The festival also provides an opportunity for companies to come together, network and exchange views. The programme changes with each new redfest. We invite promoters within the industry and market the festival in the local Dordogne region.
The redfest is an entertaining event for our audience of locals and summer visitors packed with various artists and companies performing new work or work in progress. Please come and support live circus arts and enjoy an evening of captivating performances.
Due to the last couple of years of Covid, the next redfest will take place in august 2023. We look forwards to seeing you all then. 
 
REDFEST 2019
Cie Biscornue (Contortion + Handstand): WINTER IN JULY | Artists & Creators: Jatta Borg, Antoine Nicaud
Teatro Pomodoro (Clown): VIVA! (work in progress) | Artist & Creator: Duncan Cameron | Canada
Company Levantes (Dance Theatre): AUDITION (work in progress) | Artists & Creators: Eleni Edipidi, Ivonne Kalter | Greece/UK
Petra Lang (Handstand): BIRD (work in progress) | Artist & Creator: Petra Lang | Germany
Aron De Casmaker (Clown): SAUERKRAUT (work in progress) | Artists & Creators: Aron De Casmaker, Rebecca Jameson | Canada
Nightingale (Opera + Aerial): IN SEARCH OF YOUKALI (work in progress) | Artists & Creators: Tim Claydon, Corin Buckeridge, Katie Bray | UK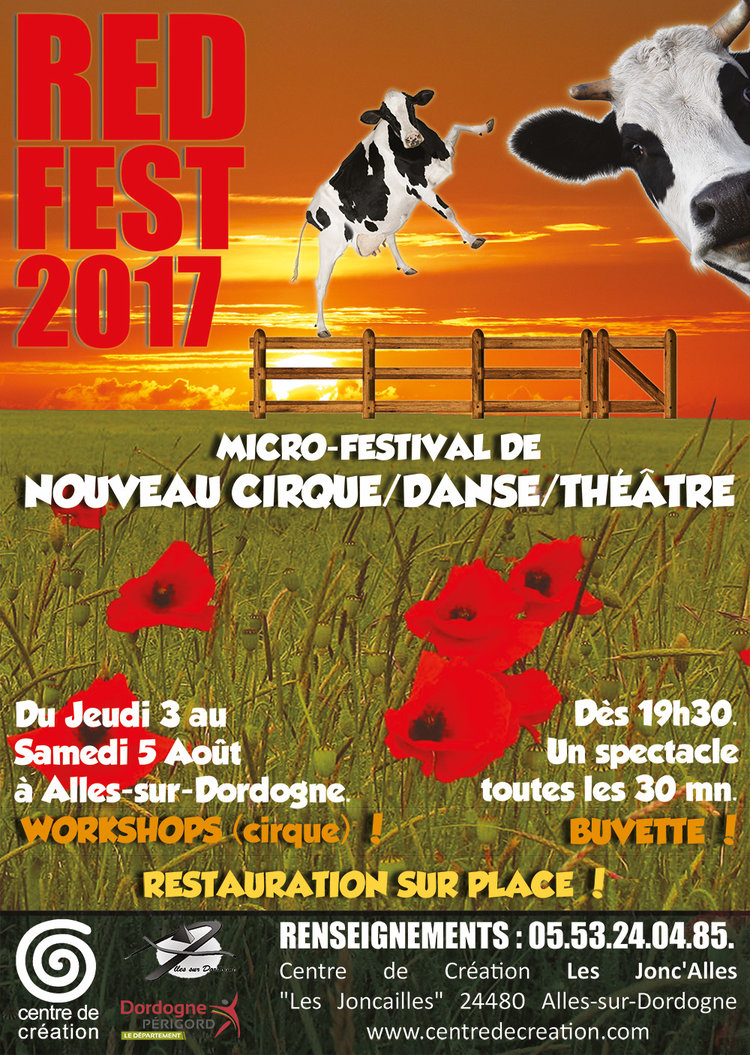 2017 programme
La Compagnie Duo Beloraj (France): And yet…
Hazel Lam (China): To the lighthouse
José Trigero/Chris Paterfield (Spain/Scotland): Project Gibbons
Rachel Schiffer (USA): Pink bubbles are following me
Cie Saseo (France): Waké Tébo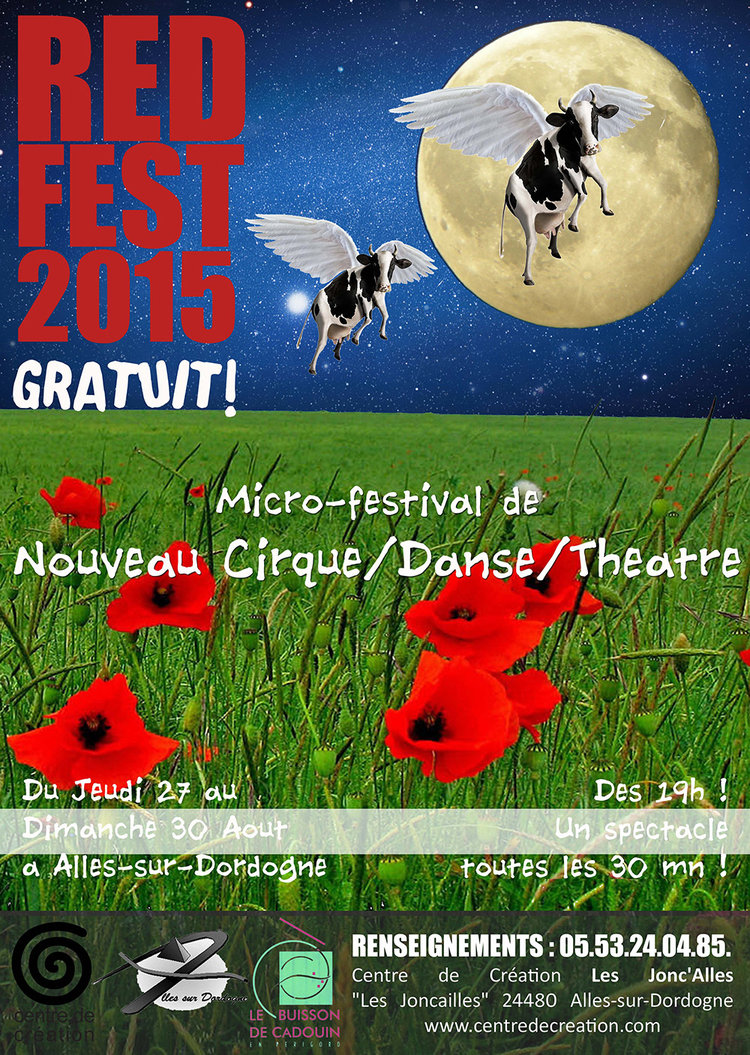 2015 programme
Levantes Dance Theatre (Greece/UK): The Band
Mattatoio Sospeso (Italy/France): You make my head spin
DueDá Company (Ireland/Italy): Diverged
CirqueVost (France): Turmoil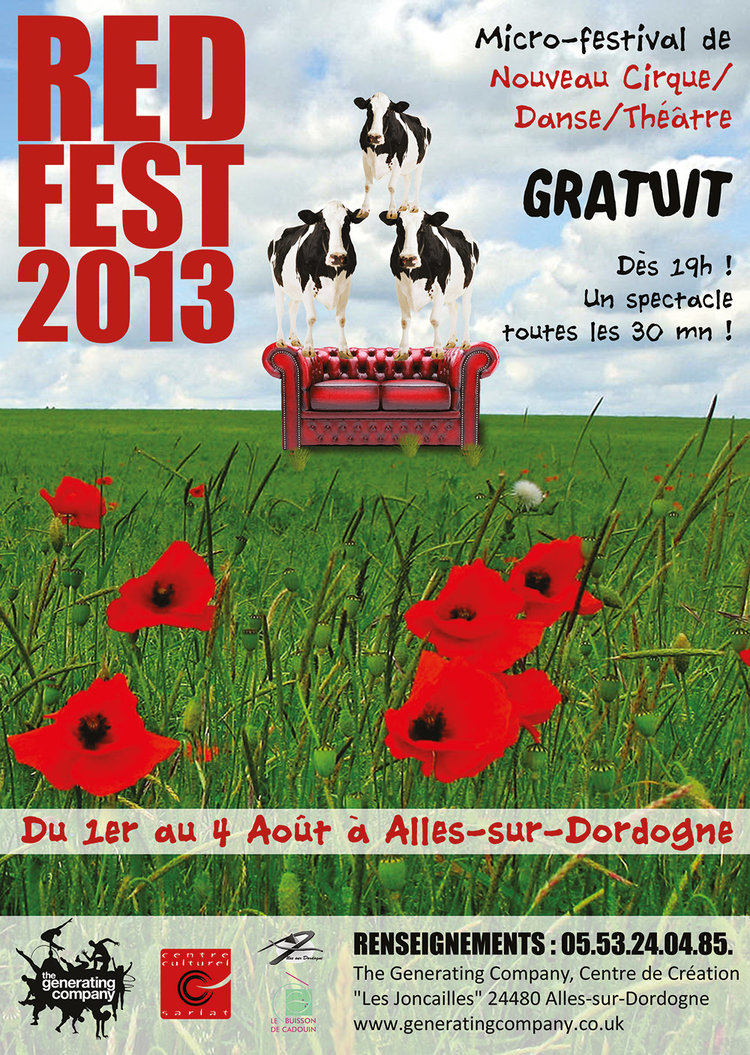 2013 programme
La Cie d'Eux (France): a piece about a relationship and their therapist using circus skills and choreography.
Proyecto Otradnoie (Chile/Spain/France): a piece about a man in the midst of objects that live in the sound, a man who feeds his obsessions among frequencies, using music and circus.
Betti Combo (France): a comedy piece with two men and a woman looking for the perfect structure using lots of plastic buckets and a Chinese pole…
La Compagnie Si J'y Suis (France): a piece about gravity using circus and choreography.
Apocalyptic Circus (Sweden/UK): a dialogue between performer and technician, an experimental new circus duet.
Levantes Dance Theatre (Greece/UK): a duet exploring the idea of a human partnership, using dance and bungee.