retreats
Centre de création is the perfect place to run your yoga retreat or your yoga teacher training course. We have a wonderful holistic space surrounded by nature. The Dordogne is full of abundance in every season, wake up to sunshine every day, attend an early morning yoga and meditation practice, eat nutritious freshly prepared vegetarian food, and spend the rest of the day being fully immersed in the retreat and yourself. There is time to walk in the countryside, meditate in our natural space in the woods, swim in the refreshing waters of the river or our sparkling swimming pool and visit local markets and attractions. Come visit us and take time out in one of the most beautiful parts of France – the Dordogne region.
select your retreat…
This year we welcome back Lisa Hood and her incredible Summer Mandala retreat in June and YogaKoh are hosting their annual 200h YTT Yoga teacher training course in August/September.
For more information, please contact us: abigail@centredecreation.com.
We look forwards to meeting you…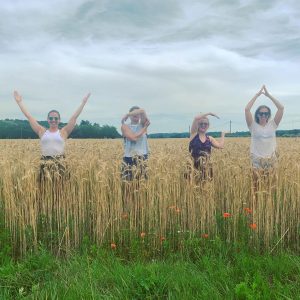 In honour of the light and Mama Earth we will practice Elemental Mandala Vinyasa in the mornings and cool down in the evenings with Elemental Yin and meditation.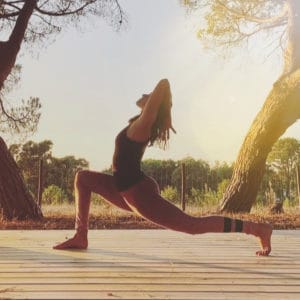 29th Aug - 25th Sept 2022
YogaKoh is thrilled to be offering their first European based 200hr YTT. An amazing opportunity for you to experience your teacher training in the lush countryside of the Dordogne Valley in the South of France.
tutor(s) : YogaKoh - Aurelie Poles
…or run your own retreat
If you would like to run your retreat or yoga teacher training course, we offer the following
• 14 bedrooms, 2 caravans, 2 bell tents, 7 bathrooms, Sleeps up to 20.
• Teacher accommodation.
• Vegan and Vegetarian chef available, using local fresh produce.
• Fully equipped yoga Shala.
• Yoga deck in the forest.
• Swimming Pool / The Dordogne River.
• Local walks / canoeing / horse riding / historical caves + villages.
"Nothing in nature lives for itself. Rivers don't drink their own water. Trees don't eat their own fruit. Sun doesn't give heat for itself. Flowers don't spread fragrance for themselves. Living for others is the rule of nature. And therein lies the secret of life. "
Amit Gupta