abundant harvest
An exciting retreat spending time in the kitchen with Daphne, learning about food. We will make delicious, beautiful dishes from food that creates good health, supports the natural environment and offers solutions to the climate crisis. In addition to the practical work there will be sessions on.
Overview of the immune system
Our immune systems are truly remarkable; this complex system has the ability to produce a million specific antibodies within a minute and to recognise and disarm a billion different harmful invaders. We will look at some of the many ways to support the immune system which will include yoga each morning.
Phytonutrients
Plants are full of compounds known as phytonutrients which are produced by plants to protect themselves against strong sunlight, oxidation, viruses, bacteria, insects, disease and background radiation. When we eat a diet rich in plants we harness these amazing powers and the plants protection becomes our protection.
Preserving our future
Preserving the abundant fruits, roots and seeds of autumn ensures you have a well stocked larder, a palette of inspiration to provide you with food to eat and share whatever shock befalls our food systems. Over the 4 day retreat we will focus on drying and fermenting preserving techniques.
Tinctures and tonics
What is a tincture and how to make one, easy to grow herbs for making tinctures bioactive components and benefits of apple cider vinegar.
Making oxymels, shrubs, tonics & cocktails.
Key Nutrients
in-depth look at fats, proteins and carbohydrate.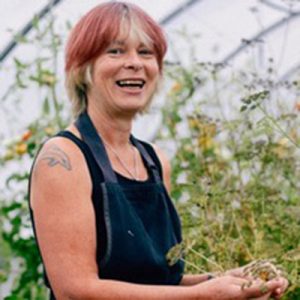 Daphne Lambert
Daphne Lambert is a nutritionist, chef and author, who has cooked, studied, taught & written about food all her adult life. She was the chef and co-owner of the first organic restaurant and eco hotel on the Welsh - Hereford borders for over 30 years.