plant rich eating
Book now
secure your place with a 30% deposit
An exciting retreat spending time in the kitchen with Daphne, learning about food. We will make delicious, beautiful dishes from food that creates good health, supports the natural environment and offers solutions to the climate crisis. In addition to the practical work there will be sessions on.
Food stories
The stories behind the food we eat and the impact our food choices have at both a local and global level from dairy to coconut and soya to tomatoes.
How can we move towards a sustainable, healthy farming system that provides for all people and doesn't destroy the planet and its inhabitants in the process?
Digestion & gut bacteria
Understanding the digestive system and how the gut microbiome is the foundation of emotional, mental and physical health.
Allergies and intolerances
Individual biochemistry and how to ensure you eat a diet that suits you.
Techniques to maximise bioavailability of nutrients from plants
The problems associated with lectins, phytate & protease inhibitors benefits of soaking, sprouting & fermenting.
Key nutrients
Obtaining vitamin B12, vitamin D, iron, calcium and iodine on a plant based diet.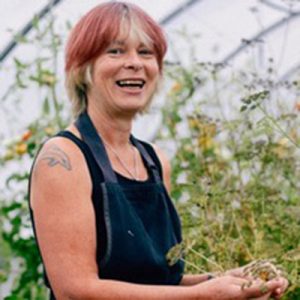 Daphne Lambert
Daphne Lambert is a nutritionist, chef and author, who has cooked, studied, taught & written about food all her adult life. She was the chef and co-owner of the first organic restaurant and eco hotel on the Welsh - Hereford borders for over 30 years.