warm up + warm down
movement + dance warm up | Magalie Lanriot (60min)
A head-to-toe warm up, that will generate heat in the body through breath, and open the body through a series of repetitive short movement sequences which we'll build on as the week progresses. We will work also in contact improvisation tasks working in pairs and in groups, gently giving and taking weight and finding techniques for flying, partnering and floor work, leaving you energised and prepared for whatever the day ahead may bring.
---
yoga warm up | Petra Lange (45min)
Start your day with an energising yoga class. Yoga helps stress, heals, promotes better breathing, flexibility, increases strength, improves circulation, and creates inner peace and stillness of the mind. Yoga essentially consists of meditative practices culminating in attaining a state of consciousness. A welcoming release for those tired shoulders and practice moments of stillness. Yoga is a means of balancing and harmonising the body, mind, and emotions. We will also be concentrating on pranayama (breathing and meditation to help relax the whole body. The class style includes Ashtanga, Vinyasa and Yin practices.
In yoga, all bodies are different; we will focus on the breath, learn new postures, and work mindfully without judgement. Yoga classes are an investment in both personal growth and health for mind, body, and spirit.
warm down | DADA tutors (15min)
At the end of each day there will be a warm down session with a DADA tutor.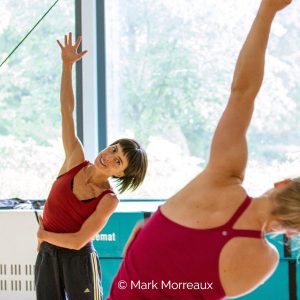 Magalie Lanriot + Petra Lange
Magalie is a dancer, performer and teacher with training in contemporary and aerial dance. In 2014 Petra completed a 200 Hrs Ashtanga Vinyasa Teacher Training in Thailand (All Yoga Thailand), followed by a 50 Hrs Yin and Yang Yoga Training at Dharma Yoga Berlin in 2016.
Packages & Schedule
Accommodation
Getting here
FAQ