hoop technique
DAY 1 - 9:30 / 11:00
DAY 3 - 9:30 / 11:00
This class will explore in beautiful, excruciating detail the art of spiral movement and the practise of spinning like an absolute maniac. (Ginger and other antiemetics at the ready please!). The workshop will focus in particular on transitional movement and shapes rather than on stand alone tricks and moves (although these are totally available on request!). The class will include both spinning and dynamic techniques although the emphasis will be on choreography that can be done while spinning. Hoop experience is required to get the most out of this workshop, students should feel comfortable spinning in the hoop while executing choreography.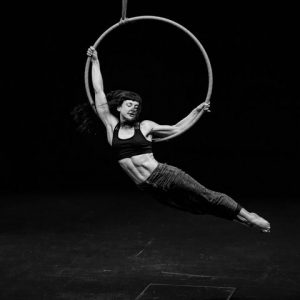 Aisling Ni Cheallaigh
Aisling is an Irish aerialist homegrown and hand reared by a conglomerate of companies and coaches.
Packages & Schedule
Accommodation
Getting here
FAQ