autumn reflection
Autumn, a slow transition between the energy of summer and the stillness of winter, a time for reflection, balance and contemplation. Walk amongst nature, feel the crisp cold air on your skin and your senses sharpened. Take this time to conserve your energy and prepare yourself for the months ahead. We will start each day with a gentle Vinyasa yoga stretch, some pranayama breathing techniques and some mindful meditation. In the afternoon there are walks, plus sessions on how to develop your own yoga 'self-practice' and aerial yoga. As part of the retreat there will be something creative to do each day from creating homemade energy balls to making your own earth-friendly, natural soaps or discovering your inner artist by creating magic with clay in the forest. Simply just being creative feels good. If you don't feel like partaking in all the activities, you can take time out and read one of our many inspiring books in front of the fire. All meals are seasonally prepared offering nutrients that will benefit your physical and mental health. Take the opportunity as the seasons change to tune into that change. Be inspired by the nature around you and prepare your mind, body and spirit.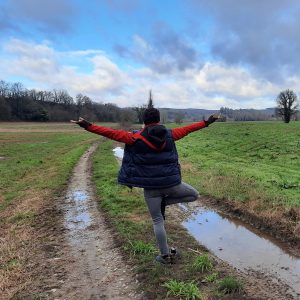 Abigail Yeates, Isabelle Delhon and Melanie Chevalier
We all have a passion for creativity, food and yoga so we decided to combine all our skills and offer them to you.