spring awakening
Book now
secure your place with a 30% deposit
Spring is about change and renewal. Winter is finally behind us, plus stiff joints and the isolating cold weather. Nature is blooming; roots and flowers are reviving again. Just imagine that warm feeling on your skin, the fresh air in your lungs. This retreat is about awakening and connecting with our mind and body. We will start each day with a Vinyasa style yoga class and a mindful meditation, at the end of each day there will be an aerial yoga session, this might sound scary but it can be incredibly relaxing and open to all levels.
As part of the retreat there will be something creative to do each day from creating nutritional juices to protein energy balls, making your own earth friendly natural skin care products or learning how to discover your inner artist. Simply just being creative feels good. If you don't feel like partaking in all the activities, you can take time out and relax. All meals are freshly prepared offering nutrients that will benefit your physical and mental health. Take the opportunity as the seasons change to turn over a new leaf for yourself, how can you make this spring a fresh start. Be inspired by the nature around you, shed the winter from your mind, body, and spirit and awaken once again.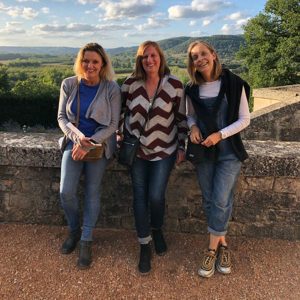 Abigail Yeates, Frances Crandon & Lizzie Bath
We all have a passion for life so we decided to combine our skills and offer you a rejuvenating experience.