wild walks & yoga (summer)
Book now
secure your place with a 30% deposit
A Summer retreat is a wonderful time to feel refreshed and restored. Walk along ancient pathways and feel the energy of the sun, immerse yourself fully in your surroundings and reconnect with your mind and body. The day starts with a soft yoga stretch to awaken the body, followed by a hearty breakfast before you embark on your first walk of the day. We offer daily walks for 2/3h along the Petite Randonnée (short circular walks). We take a refreshing pit stop at the river to rest our weary feet and take time out to be still in nature. Lunch is served as delicious vegetarian picnic. Afternoons are spent exploring historical villages and castles where you can immerse yourself fully into another time and place. We finish the day with a simple end of day restorative yoga stretch to open up the joints. The evenings are a social occasion and a chance to get to know your fellow walkers, share stories whilst enjoying a wonderful prepared seasonal vegetarian meal.
The aim of the retreat to is to be present in nature and to awaken your senses. All in all, a 'feel good' weekend retreat.
Your Guide :
Isabelle Delhon (French) and Abigail Yeates (English)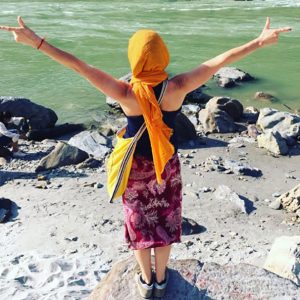 Abigail Yeates & Isabelle Delhon
Isabelle and Abigail will guide you on your Yoga and Dordogne experience.